Video Galleries
Maryland Chapter NIH Rare Disease Day 2017
NC State Lift For Life 2016
Josh Taylor and Cole Cook, Uplifting Athletes chapter leaders at NC State, discuss their 2016 Lift For Life, a fundraising event held on J…
2016 Penn Football "Iron Quaker" Lift For Life
Chapter leaders Sam Tullman, Tyrone Quarterman, and Matt Henderson talk about the Penn Uplifting Athletes Chapter and the 2016 "Iron…
Jake Olson: 2016 Rare Disease Champion
We are proud to announce that USC long snapper Jake Olson has won the public vote for the 2016 Uplifting Athletes Rare Disease Champion. T…
Tackle Rare Diseases with Kurt Coleman
Pledge towards every tackle recorded by the Carolina secondary this Sunday! All proceeds will support Uplifting Athletes, a nonprofit orga…
2015 Northwestern Lift For Life
Footage from the 2015 Northwestern Lift For Life, where the Wildcats chapter of Uplifting Athletes raised research funds for ALS. For more…
Uplifting Athletes: Washington Chapter
University of Washington football players Caleb McGrary, Michael Kneip, and Jeff Lindquist talk about starting an Uplifting Athletes Chapt…
Jacob Schmidt, Former Northwestern Uplifting Athletes Chapter Leader
Jacob Schmidt speaks about the personal benefits, skills, and professional experience that football student-athletes gain from being an Up…
Zak Pedersen: GiveRare
Zak Pedersen, founder of the University of Ilinois Chapter of Uplifting Athletes, speaks about rare diseases.
Greg Stevens: Finalist for Uplifting Athletes Rare Disease Champion Award
WCIA news story on Greg Stevens, the offensive coordinator for Eastern Illinois University's football team, detailing his fight with…
Jesse James at 2014 PSU Uplifting Athletes Lift For Life Event
At the Penn State Chapter's annual Lift For Life event to benefit kidney cancer research, TE Jesse James stole the show as he put up…
Syracuse Chapter President Sam Rodgers 2014 Allstate AFCA Good Works Team presentation
Syracuse senior long snapper Sam Rodgers walked into a surprise ceremony Wednesday morning honoring him as a member of the 2014 Allstate A…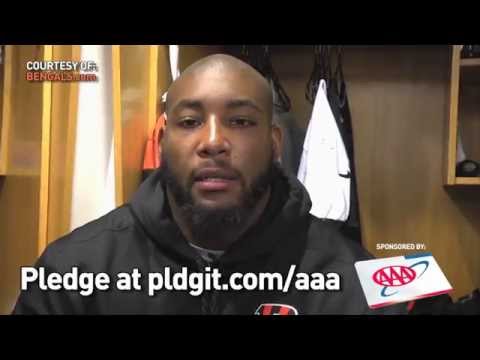 Devon Still's PSU Touchdown Pledge Drive Message
Devon Still thanks AAA and Penn State fans for supporting the Touchdown Pledge Drive from the PSU Uplifting Athletes Chapter. Join the fig…
Penn State Chapter reaches $1 million raised since 2003
UA Leadership Retreat
A video recapping the Uplifting Athletes 2014 Leadership retreat.