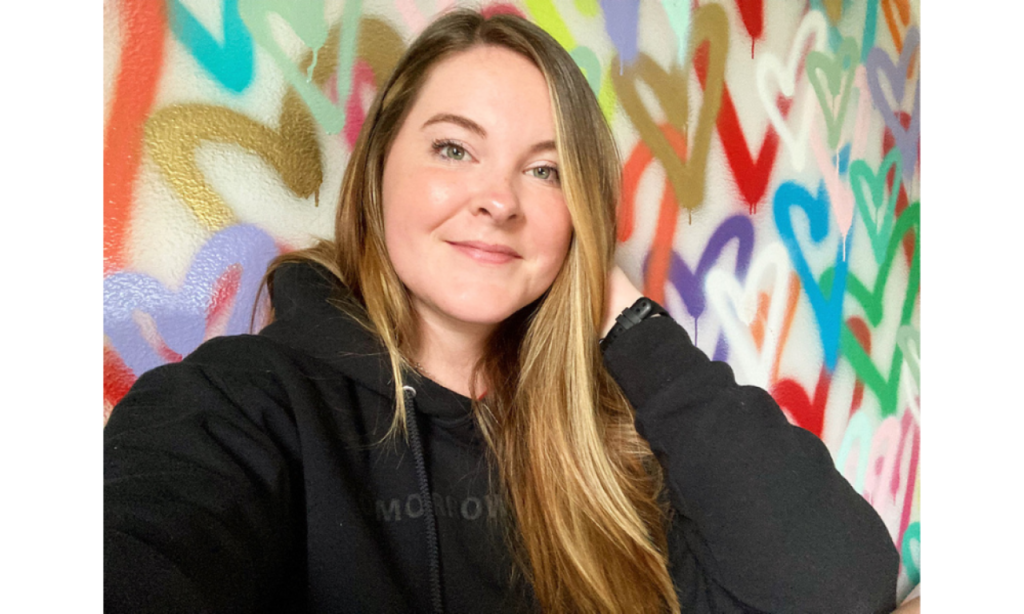 Uplifting Athletes is pleased to welcome Andrea Pierson to our team as the Chapter Success Manager to help us better fulfill our mission to inspire the Rare Disease Community with hope. Andrea joins Levi Norwood on our Sports Engagement team and will focus on enhancing the student-athlete experience through our Uplifting Leaders program.
"We are excited to have Andrea joining the Uplifting Athletes team," Uplifting Athletes Executive Director Rob Long said. "One core component of our organization is the student-athletes that we have supporting and driving our mission forward. Andrea's experience working one-on-one with them will be instrumental in the growth and development of our chapter network and integral in providing a first class experience for the student-athletes we connect with."
GET TO KNOW ANDREA
Roles and responsibilities: Andrea will manage and grow the network of college student-athletes to help them raise money in support of Uplifting Athletes' mission, grow awareness for rare diseases and create memorable Uplifting Experiences.
Education: Andrea received her BS in Recreational Therapy from the University of Toledo in 2015 and a MS in Sport Administration from Mississippi State University.
Career Path: Andrea began her career as a graduate assistant in Athletic Academics at Mississippi State University. After completing her graduate degree in 2017, she started at the University of New Mexico as an athletic academic advisor working with football, softball, and women's golf. Andrea worked in athletics until transitioning to an academic advisor in the Anderson School of Management at the University of New Mexico in 2020. In 2022, Andrea began working for BetterHelp as a Therapist Onboarding Specialist until starting with Uplifting Athletes.
Favorite Quote: "There is power in kindness" – Unknown
Q&A WITH ANDREA
What has drawn you to nonprofit work?
My undergraduate studies in recreational therapy allowed me to gain experience working with nonprofits that worked with individuals with disabilities and recreation. I really loved what I was doing in adaptive sports and saw the impact that sport can have on someone's life. I always thought I would get back to nonprofit work if the opportunity presented itself. I learned a lot in my time in college athletics at Mississippi State and the University of New Mexico about working with students and knew there should be a way to combine all my passions into one. I was drawn by my experiences to help others and nonprofit work and serving a greater purpose really appeals to me.
Share one or two of your most meaningful professional accomplishments and success stories?
I started a scholarship fund at the University of New Mexico and Mississippi State University called Tomorrow Needs You. When I was at the University of New Mexico, I lost two of my student-athletes to suicide and that really changed my perspective on life and what was important. I knew I wanted to do more and try to make a change in the world. Along with Latisha Flanders, we created the scholarship first at the University of New Mexico and then at Mississippi State University. The scholarships are awarded to students who are pursuing a degree related to the mental health field or actively working to make an impact in their community around mental health. There have been four total scholarships awarded between the two universities since 2021 and that is something we are really proud of.
Tell us something about yourself we won't find on your resume?
I love baking. Through COVID-19, I found my grandmother's recipes and started baking with her recipes. I now use baking as a stress reliever. I also have been part-time bartending at a small boutique hotel and I've discovered a passion for mixology and making unique drinks.
What is a valuable lesson you have learned from your experiences that you carry with you?
For me, I've always naturally always put other people before myself. You need to meet people where they are and see them for who they are and I believe everyone deserves to have someone in their corner fighting for them. I've also learned it's important to also give that back to myself and I never want to lose sight of that.
Tell us about your family and where you grew up, and how that shaped the person you are today?
I'm originally from Troy, Ohio. I have one older brother who lives in Indianapolis and my parents are the most amazing human beings. During my senior year of high school, they found a tumor on my dad's spinal cord. It greatly affected his mobility and he has been in a wheelchair since having it removed. I watched what my parents endured and how they were able to work together despite what was going on. I've always looked up to them so much and know I wouldn't be who I am today without them. After my dad's diagnosis, one of his siblings (he's one of seven) was diagnosed with a rare genetic neurological disorder called Hereditary Spastic Paraplegia and they believe it could be why some of my dad's mobility did not return after his surgery. I have been able to see firsthand how a rare disease can affect someone's life.
What piqued your interest about joining the team at Uplifting Athletes?
I worked with and became friends with Levi Norwood at the University of New Mexico before he came to Uplifting Athletes. I remember seeing on his social media that he had joined the Uplifting Athletes team. I followed what he was up to and some of the impactful work he was a part of. I felt it was a perfect way for me to get back into being involved with student-athletes and helping them realize the impact they could have in the world and give back to a community to make a real difference. To me, it felt like the perfect fit.
HOT SEAT QUESTIONS
Favorite Sports Team (any sport)?
College basketball/March Madness
Read the book or see the movie?
Read the book
Go-To fast food stop?
Taco Bell
Hobbies or other interests?
Baking, mixology, concerts/live music
Last concert you attended?
Alicia Keys in 2022